Precision Positioning Table LH
Precision Positioning Table LH is a positioning table, featuring high reliability, high accuracy, and high rigidity. The slide table and bed are made of cast iron, and have high rigidity and superior vibration damping characteristics.
IKOLinear Ways are assembled on them together with a precision ball screw assembled in the drive mechanism. With the parallel arrangement of two sets of Linear Ways, this table provides stable and high running accuracy and positioning accuracy, as well as high load mass capacity. This Series includes four sizes with a table width ranging from 120 mm to super large size 420 mm. Two axis tables which combine these single axis tables are also available in this series. This table is most suitable for use as a high accuracy positioning mechanism with a large applied load and a relatively long stroke.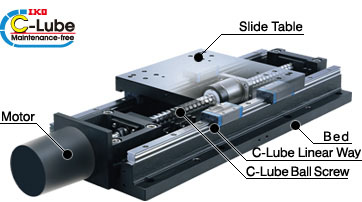 Made into Series up to Super Large Size of Table Width Dimension of 420 mm
IKO Precision Positioning Table LH TSLH/CTLH is a high precision, high rigidity positioning table which is composed of slide table and bed made of cast iron having high rigidity and high vibration damping property.
By building in IKO C-Lube Linear Way and C-Lube Ball Screw that realizes maintenance free operation of 5 years or 20,000 km to the inside portion of the table and feeding mechanism, long period maintenance free operation was realized by maintaining the conventional performance as it is.
There are 4 sizes ranging from table width dimensions of 120 mm to super large size of 420 mm, and two shaft specification tables which combine them are also made into series.
Form and Size
Table Width Dimensions(mm)
Stroke Lenght(mm)
100
150
200
250
300
400
500
600
800
1000
TSLH 120 M
120
TSLH 220 M
220
TSLH 320 M
320
TSLH 420 M
420
Remarks: Incase stroke lengths shown in ( ) are desired, please make inquiries at IKO.
Some products are not shown in the catalogue. Also, modifications can be made to meet your requirements. Please do not hesitate to make inquiries.