Precision Positioning Table L
Precision Positioning Table L is a light weight and long stroke type positioning table in which two rows of high accuracy and high rigidity type IKOLinear Ways are incorporated on a slide table and bed made of high-strength aluminum alloy together with precision ball screws in the drive mechanism. Parallel arrangement of two sets of Linear Ways achieves stable and high running accuracy and positioning accuracy as well as high load capacity. Many variations in table sizes and stroke lengths are available. Dedicated XY brackets are also available in this series. So an assembly such as an X-Y robot can be readily constructed suiting the requirements in each application. When capillary plates are attached, the maintenance work including grease-up for Linear Way and the ball screw can be greatly reduced. This Series is widely used and its excellent performance has been verified as a high accuracy positioning mechanism for assembling systems, working machines, measuring instruments, etc.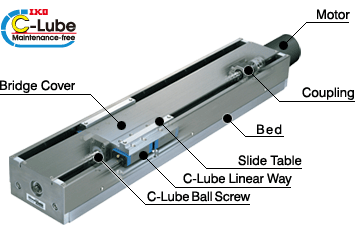 Multi-Shaft Composition is Easy because of Abundant Variations
IKO Precision Positioning Table L TSL・・・M is a light-weight long stroke positioning table that is composed of slide table and bed made of high strength aluminum alloy.
By assembling C-Lube Linear Way and C-Lube Ball Screw which realizes maintenance free operation for a period of 5 years or 20,000 km, built into the inside portion of the table and feeding mechanism, we were able to realize maintenance free operation while maintaining the conventional performance.
There are abundant variations of table sizes and stroke lengths, and exclusive XY brackets are made into series. Therefore, it is possible to compose systems such as cross type robots easily, so that they meet applications.
Form and Size
Table Width Dimensions (mm)
Stroke Length(mm)
50
100
150
200
250
300
400
500
600
800
1000
TSL 90 M
90
TSL 120 M
120
TSL 170 M
170
TSL 170S M
170
TSL 220 M
220
Some products are not shown in the catalogue. Also, modifications can be made to meet your requirements. Please do not hesitate to make inquiries.