IKO Alignment Stage SA uses IKO C-Lube Linear Way L in the linear motion rolling guide portion, IKO Crossed Roller Bearing in the revolving guiding portion, and adopts direct-drive system in the driving portion. It is an alignment stage that realizes low cross section, compact, XYθ movement.
By the combination of high resolution linear scale and full closed loop control, Alignment Stage SA・・・D realizes high-accuracy positioning operation without any backlash.
It is most suitable for alignment processing utilizing image processing such as semiconductor and liquid crystal related manufacturing equipment, and positioning mechanism for measuring equipment and inspection instruments that require clean environments.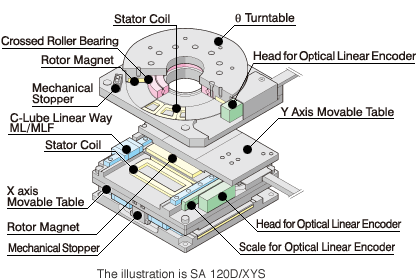 The Advent of SA65DE which Pursues Good Cost-Performance for IKO Alignment Stage SA
X, Y axes of Linear Motor Drive have two types of line-ups, namely, Resolution 0.1 μm and 0.5 μm. Optimum selection that meets the application can be made.
Alignment Stage Direct Drive SA・・・D is a low-profile, compact alignment stage which realizes XYθ movements, and which adopts XY axes that combine two orthogonal axes on movable table adopting Linear Way L and linear motor drive at the linear guide portion, and adopting crossed roller bearing and direct-drive motor for the θ table of the rotating guide portion.
Alignment Stage Direct Drive SA・・・D realizes high accuracy positioning operation without backlash, by combining high resolution linear encoder and fully closed loop control.
Furthermore, since X movable table for linear movement and θ turntable that is the rotation positioning portion are standardized, the combination of X axis and θ axis, and alignment table of XY axes can be easily organized.
Some products are not shown in the catalogue. Also, modifications can be made to meet your requirements. Please do not hesitate to make inquiries.