IKONano Linear NT is a direct drive moving magnet type 2-axes positioning table, which has magnets and an optical linear scale incorporated in a moving table made of steel, and stator coils and linear scale head incorporated in a steel bed.
Combination of IKOLinear Way L as a linear motion rolling guide, high resolution linear scale, and the strongest neodymium magnet realizes a high precision positioning accuracy and high speed and quick response operation in compact sectional dimension.
Furthermore, mechanical contact is completely eliminated except linear motion rolling guides by adopting a unique design of a wireless moving table in which the linear scale sensor is arranged on the bed.
So this table generates very little dust and provides a high level of cleanliness.
IKONano Linear NT is most suitable for use as a compact positioning mechanism for semiconductor and liquid crystal related equipment, and assembling systems, where cleanliness is essential.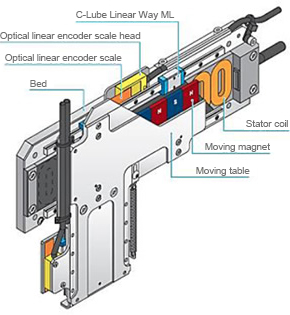 Pick & place unit driven by linear motor

This is a unique and unparalleled pick & place unit driven by a linear motor. This unit is equipped with X and Z axis linear encoders having a resolution and enables high precision and high tact positioning.
Super slim type and space-saving

This unit is very thin (18mm). Four units can be set out in a space of 100mm wide. This unit contributes to increase the efficiency in a minimum space.
Universal operation patterns

The unit can perform any operation patterns by entering a desired positioning program. This unit can also change strokes easily according to work pieces.

Operation monitoring function

The track can be verified from PC by using the driver monitoring function.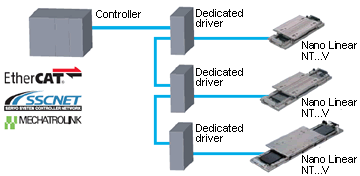 Motion network is supported

Drivers with EtherCAT, SSCNETⅢ, and MECHATROLINK enables less wiring and easy configuration of the synchronized driving system for multi axes.

EtherCAT® is registered trademark and patented technology, licensed by Beckhoff Automation GmbH, Germany.
Model
Table width
[mm]
Table height
[mm]
Stroke length
[mm]
NT80XZ4510
X-axis
18
153
45
Z-axis
10
Some products are not shown in the catalogue. Also, modifications can be made to meet your requirements. Please do not hesitate to make inquiries.