IKONano Linear NT・・・H is a direct drive moving magnet type positioning table, which has magnets and an optical linear scale incorporated in a moving table made of steel, and stator coils and linear scale head incorporated in a steel bed.
For guiding parts of the table, IKOCrossed Roller Way that is well-established in the area of miniature linear motion rolling guides is used in combination with linear motor and high-resolution linear encoder to realize highly accurate positioning.
Furthermore, mechanical contact is completely eliminated except linear motion rolling guides by adopting a unique design of a wireless moving table in which the linear scale sensor is arranged on the bed. So this table generates very little dust and provides a high level of cleanliness.
IKONano Linear NT・・・H is most suitable for use as a compact positioning mechanism for semiconductor and liquid crystal related equipment, measuring instruments and assembling systems, where cleanliness is essential.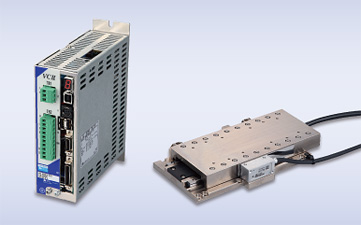 Excellent positioning repeatability
This type adopts IKOAnti-Creep Cage Crossed Roller Way Unit with built-in rack and pinion as the linear motion rolling guides. This accomplishes a high rigidity and pulse-less smooth motion just like a static air bearings. This type has an excellent positioning repeatability since its attitude is rarely affected by the movement of the table.
Positioning accuracy and straightness of 1 μm or less
Positioning accuracy and straightness of 1 μm or less are achieved due to studying accuracies of all components and assembling the components precisely.
High speed stability
This type has increased its speed stability by the combination of IKOCrossed Roller Way of extremely smooth motion, a linear motor of the coreless moving magnet type, and a high performance servo driver. (+/-1% or less in 10mm/s)
Basic specifications of Nano Linear NT88H
Model
High accuracy type NT…H
NT88H25
NT88H65
Model and size

Sectional shape


Maximum thrust N
25

25

Rated thrust N

5
5
Maximum load mass kg
5
5
Effective stroke length mm

25
65
Resolution μm
0.01
0.05
0.01
0.05
Maximum speed mm/s

90
400
90
400
Positioning repeatability μm
±0.1
±0.1
Some products are not shown in the catalogue. Also, modifications can be made to meet your requirements. Please do not hesitate to make inquiries.